With your generosity we have so far raised an amazing £1,280.00 in support of Cancer Research in memory of Mark Gowers 'Flowery'.
The team at Munro Greenhalgh would like to say a big thank you all of those who attended and supported our event including: –
Our our staff for the constant rattling of buckets for donations.
The other participants including families, the team from the family division from AFG Law, representatives of Brooksbottoms Cricket Club and numerous well-behaved dogs.
The various cricket clubs for hosting us and allowing us to watch the wonderful game of cricket – Greenmount Cricket Club , Tottington St John's Cricket Club , Walshaw Cricket Club , Woodbank Cricket Club & Brooksbottoms Cricket Club
The amazing live band 'King Pin' who performed for us in the evening.
And finally and most importantly to all the individuals and businesses for their donations.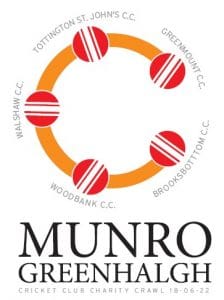 It's not too late to make a donation – use this Funding Page or contact Ian Hayes on 01706 824023.