Munro Greenhalgh are organising a cricket charity fund raising walk / club crawl to take place on Saturday 18th June 2022.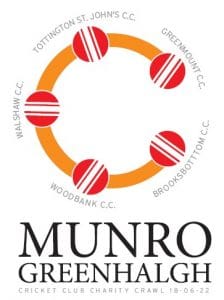 All proceeds of the walk will go to Cancer Research, in memory of Mark Gowers 'Flowery'. The day features a walk along the scenic Kirklees Valley Heritage Trail, commonly known as 'The Lines', taking in the picturesque clubs and their talented cricketers – most clubs have a brilliant selection of local ales.
The itinerary for the day is as follows: –
– Start at Greenmount Cricket Club 2 pm.
– Down 'The lines' to Tottington St John's Cricket Club
– On to Walshaw Cricket Club
– Across and down the lines to Woodbank Cricket Club
– Finish with a flourish at Brooksbottoms Cricket Club
– Live Band 'King Pin' and BBQ at Brooksbottom.
We would like to thank all the cricket clubs for their participation and all sponsors/supporters for the generous donations.
If you would like to join the walk, cheer us on, or just donate, please use this Funding Page or contact Ian Hayes on 01706 824023. The more the merrier.
PS. Buddy our chief officer of moral will be in attendance during the day hoping to help out fielding at the cricket clubs