Winter is upon us! Brrrrrrace yourselves!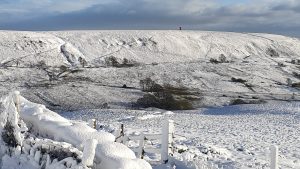 Here we highlight numerous ways in which this season can catch us out as employers and businesses. Munro Greenhalgh can help with a free review of your Risk Management to help prevent any mishaps and ensure that you are properly covered should the icy finger of fate point towards your business.
Your premises:
Heavy snow, freezing temperatures, strong winds and stormy conditions can all massively disrupt your business activities through damage to roofing, walls, windows, etc.
We strongly advise upon keeping your buildings in a good state of repair through thorough and robust facilities maintenance. Knowing your plumbing and isolation points is a good start.
Slips, trips and falls:
Outside and inside your premises can become a wintery ice-skating rink. Do you have a risk assessment (and clothing / footwear standards) checklist to mitigate against an accident caused by a slip? Injury to employees will mean absence, sick pay, and disruption to your business.
Flooding:
We know only too well just what an impact flooding can have on a business. Surviving the initial damage (to property, stock and equipment) is only the start of a long long road back to pre-flood commerciality. Keeping your business going without premises is an extremely difficult task.
Our experience in this would be an enormous help in supporting you through the whole process – draining / cleaning / repairing – getting you back on track as soon as possible and handling your claim effectively.
Winter Driving:
It's not just icy roads. Winter driving conditions offer a deadly combination of black ice, snow, heavy rain, low sun, fog, darkness, etc. If transport is your sector, then disruption caused by these wintery conditions is a serious threat to your business schedules. Again, risk assessments combined with journey re-planning can help – but a full review of your Seasonal Management Policy should enable you to prepare for and defend against all winter damage potential.
Please see our interactive leaflet produced in conjunction with Aviva Insurance to provide you with some top tips – see here. We also have access to in-depth risk management advice from various insurer partners . 
Contact Ian Hayes (or any of our Commercial Team) now to organise a review of your Winter Risk Management
01706 824 023 or [email protected]
Munro-Greenhalgh is a team of Independent Insurance Brokers located in Ramsbottom, Bury providing personal and professional advice on both commercial and personal insurance. Whether you are looking for commercial insurance for your manufacturing business or you need cover for your first home, Munro-Greenhalgh can help.