A Great Great Gatsby Charity Ball!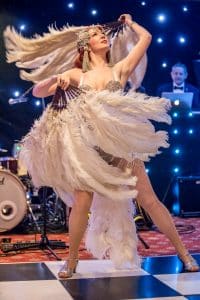 Around 200 people enjoyed an evening which marked not only a return to non-restrictive normality, but also an entertainment feast fit for a flapper!
Organised by Munro Greenhalgh Insurance Brokers of Ramsbottom, in partnership with Consilium Wealth Management of Bury, the ball, which was held Friday 29th October at The Stables, Bolholt Country Hotel, Bury, raised £5,436 in support of Bury Hospice.
The evening kicked off with the confusing spectacle of two waiters seemingly 'falling out' and making blunders – only for them to suddenly break out in song and marvellously mislead the entire room!
This was followed by a burlesque dancer who, in her glamorously glittering outfit and feathers, provided an exotic reminder of this 1920's style of sensuous performance.
After the three-course meal, a live band took to the stage and the merry throng (or thong in the Burlesque dancer's case) danced the night away.
A massive thanks to everyone who attended, supported, sponsored, etc, the Stables for hosting and feeding and Ice Entertainment for theming.
Please click here for a gallery of photographs from the night.
Munro-Greenhalgh is a team of Independent Insurance Brokers located in Ramsbottom, Bury providing personal and professional advice on both commercial and personal insurance. Whether you are looking for commercial insurance for your manufacturing business or you need cover for your first home, Munro-Greenhalgh can help.
Munro Greenhalgh Commercial and Personal Insurance Brokers – 01706 824023.