Lockdown home improvements are starting to look good ….. but have you told your Insurer?
Over the last 12 months a high percentage of the UK has been taking the opportunity to spruce up their homes – from a lick of paint to building a new extension.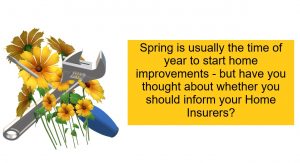 But have you thought about your home insurance policy?
Within most home insurance policies there is a standard condition which states that you must inform your insurer of any major or structural changes you are making to your property. But why??
Altering your home structurally can result in changing the property's original sums insured therefore your cover may need to be increased. This can be the case for both your buildings & contents.
If you were to not inform your insurer of any changes and damage was to arise from the work this could result in them refusing to pay out on your claim. For example, if your home was to burn to the ground, your insurer could say they were unaware of the changes that were being made and risks involved. It's very important to keep your insurer in the loop to ensure situations like this do not happen.
When structural work is being to done to your property is it vital to check that the work being done will not invalidate your cover and to ensure you have the correct cover in the place to protect you in case of any damage.
Most insurers do not usually provide cover if there is significant building work. It is VERY IMPORTANT you ensure:
Who is responsible for the 'works' being the materials and labour cost whilst your extension is being constructed. Cover can be arranged under a Contract Works policy – check with the builder or architect.
As a minimum the builder you have hired should have they there own liability insurance for any potential damage or injury they may cause.
What do I need to tell my insurer?
Your insurer will most likely ask for the name of any builders and contractors involved, and whether or not they have insurance, what their history of carrying out similar work is, the cost of the changes and whether you'll be staying at the house or moving out during the work.
Specifically you will need to inform your insurer of any structural changes you will be making to your home such as an extension or adding a conservatory. Sometimes they need to know about other significant works that may expose your home to loss or damage such as major heating and plumbing works.
What do I not need to tell my Insurer?
You do not need to inform your Insurer of any small interior changes to your home such as a fresh lick of paint or putting up new shelves.
But wont my premium increase !?
Unfortunately, yes more than likely, but you might be pleasantly surprised. However, it is still the best option to inform your Insurers otherwise you put at risk everything you have worked for. Peace of mind will come having the correct cover in place – make sure you check your policy provides cover if for example you was to experience any accidental damage as a result of the building work on your house. Usually you need the optional full accidental damage cover.
Some Insurers can offer extra cover for an additional premium such as Contract Works or renovation cover whilst the works are being carried out. You will have to discuss this with your insurer as all policies vary.
If you have any queries or need any help please do no hesitate to contact us.