Unfortunately some of the recent headlines in the news and on social media regarding the Supreme Court's ruling in the Business Interruption test case appeal are extremely misleading.
As an Independent Insurance Broker we work hard for our clients to get claims paid – there is nothing better than when a client's claim is paid. The worst part is having to tell clients "You're not covered" when all we want to do is help. Last year we had to have these difficult conversations with lots of clients following incorrect statements and reporting from both the press and members of the government.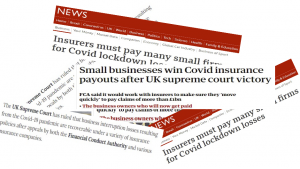 Whilst the Supreme Court ruling is good news for those businesses that had an unspecified diseases extension, the ruling has no bearing on the vast majority of Business Interruption policies.
Only a small number of policies will benefit and for these there may still be other obstacles in their way.
Rather than making bold headlines like "Insurers MUST pay out losses…..in MOST cases" we feel strongly that businesses suffering from the financial impact of Covid-19 are advised honestly and are not given false hope. Recent articles and publications from other professions have given scenarios in which a claim 'may' be paid but this is not the case for all. If you are in any doubt as to whether cover may apply we strongly recommend that you first speak with your Insurance Broker for clarification.
This was a complex case which had to be escalated to the highest court in the country. Having expert knowledge of the main issues which were in dispute we felt it important to help you understand why cover may (or most likely does not) apply for your business. A summary of the main aspects are as follows: –
What is Insurance:
In general terms insurance of any kind is for unforeseen events which can be quantified – it is not designed or capitalised to cover major global systemic risks such as war, political unrest or pandemics. To be that broad it would be much more expensive to buy.
Business Interruption:
Business Interruption Insurance provides cover for increased costs or lost income/profit as a result of damage to property at the Insured premises following perils such as fire, storm, flood, theft etc.
Some policies may also include an extension, free of charge, that typically provides cover for "Suicide, Murder or Infectious Disease" or "Public Authority Clause" or "Denial of Access" with a lower limit to reflect the cost consequences of a localised event.
Intention of Policy Wordings:
Following the outbreak of Covid-19 policy wordings (and especially the extensions mentioned) have been investigated to see whether any cover would apply. Insurers have argued that it was never their intention to provide cover for the massive financial consequences of a Pandemic such as Covid-19. Most Insurance Professionals having knowledge of the overall market, premiums collected and claims paid would agree with this statement.
However, if a policy wording is vague and accidentally appears to provide cover then the Insurer must be challenged. This led to the Financial Conduct Authority (FCA) and other parties bringing the test case to the courts in an attempt to provide clarity.
Despite the good news for the fortunate few the vast majority of policy wordings were and remain clear that no cover applies, either by virtue of: –
The extensions mentioned only apply following damage – which usually means 'loss or destruction of property'.
The Disease Wording only provides cover for a Specified Basis only. No cover applies for Covid-19 or pandemics.
The Disease Wording or Denial of Access wording are on an Un-Specified Illness basis, which is wider, however they then require a confirmed outbreak of Covid-19 on the premises resulting in closure of the premises by a competent authority.
Wordings which may provide cover:
As already mentioned the Supreme Court ruling only applies to a small number of businesses. According to the Federation of Small Businesses there were 5.94 Million small businesses at the start of 2020. The FCA has indicated that the ruling may only apply to 370,000 businesses.
In most cases the wordings apply to schemes or affinity groups for specific business sectors. These used bespoke wordings rather than the standard wordings offered by Insurers directly. To assist you we have provided a chart which may help you identify if cover applies – Business Interruption – Covid-19.
You can also find more details about the judgment and background to the FCA's test case on its website.
The court's decision addresses points of technical policy interpretation and has analysed each policy based on the explicit words used. The ruling is generally in favour of policyholders but there still may be different outcomes for different insurers.
What have we done at Munro-Greenhalgh Ltd:
Munro-Greenhalgh Ltd are Independent Insurance Brokers who act on behalf of businesses large and small throughout the UK, but mostly in the North West of England.
Our culture of Treating Customers Fairly is at the heart of our business and we always work hard to ensure our clients receive a fair outcome. Clients who have previously suffered a loss appreciate the lengths we will go in helping them with their claims.
Following the onset of Covid-19 we quickly realised the devastating effect this would have on the business community.  Last year we undertook an extensive exercise to review the policy wordings used by our Insurer Partners in an attempt to identify all customers with Business Interruption Insurance with policy wordings which appeared to provide cover.
Out of all our clients only 10 policies were identified where we felt we could challenge the Insurer. Claims have already been submitted on behalf of our clients. In one case we have already been successful in obtaining settlement for our client last year. We are hoping to conclude the others in light of the Supreme Court ruling.
"We make it our business to understand your business"
This article offers a general overview of its subject matter. It does not necessarily address every aspect of its subject or every product available in the market. It is not intended to be, and should not be, used to replace specific advice relating to individual situations and we do not offer, and this should not be seen as, legal, accounting or tax advice. If you intend to take any action or make any decision on the basis of the content of this publication you should first seek specific advice from an appropriate professional. Some of the information in this publication may be compiled from third party sources we consider to be reliable, however we do not guarantee and are not responsible for the accuracy of such. The information given in this article is believed to be accurate at the date of publication (Jan 2021). This information may have subsequently changed or have been superseded, and should not be relied upon to be accurate or suitable after this date. The views expressed are not necessarily those of Munro-Greenhalgh Ltd.