Lockdown 3 – we remain 'Open for Business'
As during the first and second lockdowns of 2020, the team at Munro-Greenhalgh are here again available to help, support and advise customers with their Risk Management, Protection and Insurance needs.
Despite our investment to achieve a Covid-Secure environment and the fact that most staff would prefer to work from our office, government instruction is that staff that can work from home should do so.
Whilst we are confident our premises remain Covid-Secure, the majority of staff will again revert to working from home. However, a reduced number of staff will remain at the office to ensure that all telephone calls continue to be answered and dealt with quickly and effectively.
So how does this affect our service to our clients?
We are also confident that we can – just like during the last two lock downs – maintain our high standards of service during this period. Like you, we know how difficult it has been and remains to be to contact certain firms whose staff are working from home – nothing is worse than being kept on hold or never receiving a call-back to a message left.
We are proud of the feedback we received that since the outbreak of Covid and during the first two lockdowns our customers found it easy to contact us. You will still be able to telephone our normal office number which will be answered immediately by a member of staff with no queuing or numerous menu options! If you need to speak with a particular member of staff working from home we will ensure they call you back the same as they would if based in the office. Alternatively, a list of all staff emails and mobiles is available here.
Unfortunately, once again in the short term is that we will need to suspend all client visits and our offices will again be closed to external visitors – unless there is need to assist with a disaster or emergency on site. As always, we are open for video calls via Zoom, Teams or Google.
Changes to Risk & Risk Management Advice
It is vitally important that your keep us and your Insurer updated with any changes to your 'Risk' – especially changes to the occupancy of premises or any business activities being undertaken.
For top tips and advice in navigating the risks for SMEs during lockdown3 and beyond click on the image below.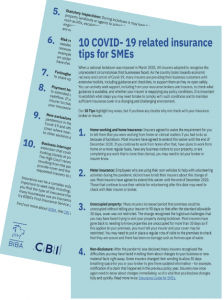 This guide has been kindly produced by BIBA and the ABI. As mentioned in the guide we have access to essential tool kits & risk management advice from various Insurers to help you through the coming months.
We hope you all remain safe and well. If you have any queries or require help or assistance please do not hesitate to contact us.
"We make it our business to understand your business"