Good News! All our staff returned to our office in Ramsbottom over a month ago. It's not quite the same as it was before Coronavirus. Like all businesses we have had to make some adjustments –  to ensure the safety of staff and visitors to ensure that we are 'Covid-Secure'.
What does Covid-Secure mean for Munro-Greenhalgh Limited?
For Munro-Greenhalgh this has meant: –
The main office door remains closed and locked. That doesn't mean we don't welcome visitors but we want to ensure that our control measures are implemented. You may just have to bang on the door unless we get a buzzer fitted!

At the front of the office we have a clearly defined waiting area and of course the first of many sanitiser stations, including disposable face masks.
The desks downstairs now have plastic screens.
Upstairs the staff have spread out with desks facing walls and/or with even more plastics screens to maximise social distancing.
Each individual is encouraged to control their own personal work space – with no sharing of items and keeping it clean and hygienic etc.
Our small kitchen has a strict one person limit – not that you could squeeze any more in.

To assist with Track & Trace we may record details of any visitors.
Overall its nothing complex or mind blowing just a simple readjustment. Constant washing of hands and using sanitiser etc soon becomes as familiar as wearing a seat belt in a car!
Client visits have recommenced with our clients agreement and if it is safe to do so – for you and our staff. However, we can still 'meet' with you using Zoom, Skype, Google Duo, Face time, Teams etc.
The best way to contact us is using our main number of 01706 824023. This means you can speak to one of the team without being on hold or leaving a voice recording. If we can't help immediately we always call you back – usually straight away or within the hour. However, you may find it easier to communicate with us via email, direct dial or mobile telephone – please see here for contact details of individual staff and their roles.
As always we hope you all remain stay safe and well.
Its important that all businesses become Covid-Secure. Below is some help and guidance to help you achieve this.
Health & Safety Executive (HSE) and Official Government Guidance – Covid-Secure: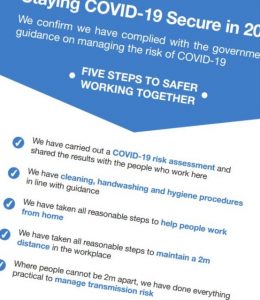 There are 5 steps for 'safer working together' to achieve being Covid-Secure: –
To carry out a Covid-19 risk assessment and share the results with the people who work for you.
To have cleaning, hand washing and hygiene procedures in line with guidance.
To take all reasonable steps to help people work safely from a Covid-19 Secure workplace or work from home.
To take all reasonable steps to maintain a 2 metre distance in the workplace.
Where people cannot keep 2 metre apart you have ensured at least a 1 metre distance and taken all the mitigating actions possible to manage transmission risk
To help official government guidance is available: –
The HSE has provided guidance and a free risk assessment – available here.
For employers, employees and the self-employed understand how to work safely during the Coronavirus pandemic – 8 guides cover a range of different types of work places: see here.
Most employers want to do the right thing, however, as part of the HSE 'Work Right' initiative (see here) their Inspectors are conducting workplace checks to make sure businesses are complying with the Covid-Secure guidance. You can expect to be put on the spot and asked to provide evidence of the measures you have put in place to deal with the risks!
Free Risk Management Guides from Insurers:
The majority of our key Insurer Partners have also provided useful guidance to help you in identifying and mitigating such risks. These include advice and information on reviewing your existing risk assessments, premises inspections and emergency response procedures. Below are links for you to access this information. The AXA guidance is particularly useful as this also provides specific advice between different business sectors. Please links below:
We hope the above information will assist you. However, if you are in any doubt and wish to discuss your specific business operations please do not hesitate to contact us.